ALEXANDER KHOJAMIRYAN DELIVERING LECTURE SERIES ON 'PHYSICS OF HEAVY HADRONS. BASICS AND NEWS"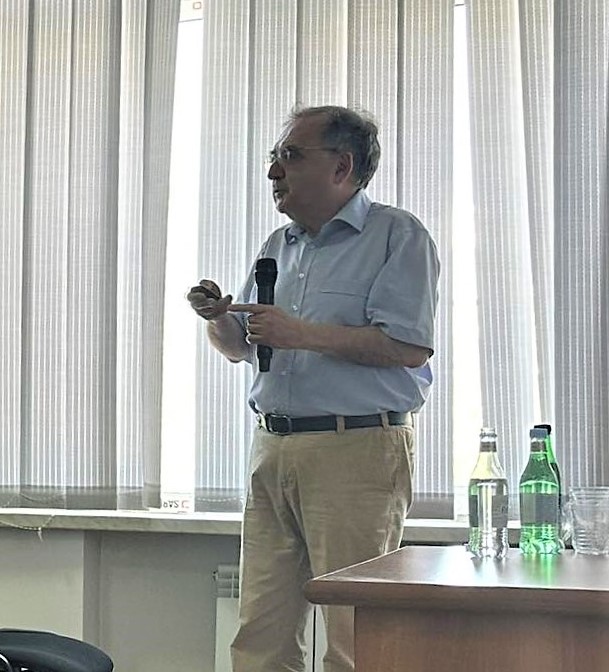 From May 16th to 18th, Dr. Alexander Khojamiryan, professor at the University of Siegen, Germany, will hold series of lectures on physics of heavy hadrons for scientists and students.

The lectures include:

May 16
BASIC FACTS ABOUT PARTICLE PHYSICS
Quantum nature of particles
Relativity and antiparticles
What is particle interaction, and how do they interact?
Electromagnetic interaction
Symmetries and conservation laws
May 17
BRIEFING ON THE STANDARD MODEL
Leptons and quarks
Flavour and Families
Photon, electroweak and Higgs bosons
Gluons and quantum chromodynamics

May 18
HADRONS MADE OF HEAVY QUARKS
Bound states of particles from atoms to hadrons
Hadron spectroscopy with heavy quarks
Weak decay of heavy hadrons
Is there new physics outside the standard model?
On May 22, at 15:30, Professor Khojamiryan will hold a seminar on "B-meson decay into dark matter particles".

Venue: Alikhanyan Brothers 2, Yerevan, seminar hall of the Department of Experimental Physics, AANL (4th building, 2nd floor)
Participation is also possible via Zoom.