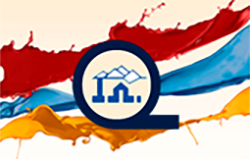 Science is the foundation of technology and innovation, and this is the approach A. I. Alikhanyan National Science Laboratory (Yerevan Institute of Physics, AANL) has adopted for about 8 decades. Since its foundation in 1943, AANL has held a leading position in the field of fundamental research in the region.
The wide spectrum of achievements in the field of physics accounts for its positioning as one of developed and continuously developing science directions in Armenia. The 21st century challenges -pandemics and wars- have proven that science is the only active force to resist disasters in this constantly changing world. A. I. Alikhanyan National Science Laboratory is advancing in response to changing priorities, contributing to solution of problems that the country is facing. Using all the potential and opportunities in fundamental and applied sciences, leading scientists in the field of physics are developing new concepts addressing innovation and creation of modern technologies.

AANL is a modern center of science and technology, with scientists-researchers and skillful technical staff tackling serious scientific problems. AANL honorably maintains the status of a leading scientific institution in the region, conducting competitive and innovative word-class research. AANL is a full member of the international scientific community collaborating with more than 50 countries, taking a firm position on the world map of science, participating in major international research programs. Currently, a wide field of research and achievements has been created in the field of physics, where Armenian physicists and astronomers have authored a number of valuable scientific findings through their active collaborative engagements.
MISSION

AANL carries the mission to conduct advanced research in the field of physics, to develop complex scientific capabilities and to apply scientific and technological solutions that will meet national needs and face modern challenges improving security, health, and economic well-being of the RA citizens.
The implementation of AANL mission-oriented policies is grounded on fundamental and applied research, particularly in directions of theoretical and experimental physics, particle and nuclear physics, material science, cosmic rays, implementation of accelerator research, use and development of advanced computer approaches in artificial intelligence and machine learning.
As a leader in the field of fundamental sciences, AANL is trying develop science-education, science-technology ties, directing AANL scientific potential to the effective solution of existing problems. Along with that, with scientific equipment such as linear electron accelerator with 75 MeV energy, proton beam with 18 MeV energy (C18/18), AANL scientists conduct research in fields of nuclear physics and material science. The ultra-precise device designed and developed by AANL scientists for measuring ultra-short time intervals, devices for recording the change of electric field in the atmosphere and the fluxes of elementary particles, which, apart from research purposes, have important applied meanings and can be used to address security problems, are of high practical value.
OPPORTUNITIES

Fundamental scientific research has a primary impact on all the fields leading to applied results. The potential of the national laboratory is a unique opportunity to advance energy, national security, healthcare, environmental and other spheres in Armenia. To make an economic revolution in Armenia, it is necessary to develop quantum technologies and artificial intelligence, so AANL is cooperating with IT companies to ensure high efficiency and progress in innovation.
AANL is called to promote innovation. The proven experience and knowledge of our scientists demonstrate their potential in technology to become key partners in various industry groups. The commercialization of technologies developed in cooperation with the industry will create high-wage jobs and increase the economic competitiveness of our country.
AANL has been providing higher education for years, at master's and postgraduate levels, hosting numerous conferences, workshops, seminars, exchange programs, and summer camps.
VISION

AANL holds the vision to be a regional center of excellence in high energy physics and astrophysics, nuclear physics and nuclear medicine, material science and related applications to advance scientific research, healthcare, quantum and IT development. The strategic objective of AANL is to expand the scientific scope of AANL research and apply the latest global standards for efficiency, productivity, innovation and development, including motivation of young generation of scientists and provision of smooth generation change in scientific staff. Long-term investments in science are highly important. In this regard, maintenance and development of old school of fundamental research is of essential importance, which is the main guarantee of creation and application of technologies in Armenia.
AANL STRATEGIC OBJECTIVES
Conduct world-class research
Harness the potential of scientists and the current opportunities,
Encourage scientific research within the borders of Armenia by obtaining appropriate equipment,
Cooperate with scientific, educational institutions, IT and military-industrial organizations, bridging science, technology and economy,
Lead an actively play in the field of quantum computing, considering it as revolutionary in the world of physics.